Tuition:
2-week Residential Program: $5995
2-week Day Program: $3295
1-week Residential Program: $3295
1-week Day Program: $1695
Residential Program Includes:
Breakfast, lunch and dinner
A double-occupancy room in our residence hall (which is air-conditioned, secure, and very luxurious)
All kitchen activities
All transportation with the staff during the program
Ticket and entry fees when required on event night
Food and cooking supplies
A campusLA chef's jacket with your name embroidered into it
A campusLA t-shirt
As much fun as we can jam into the program
Day Program Includes:
The non-refundable deposit for culinary summer programs due at the time of registration is $1,000 and is included in the full tuition price. The program begins at 10:00 a.m. for day students.
Lunch and dinner and all coursework
Food and cooking supplies
A campusLA chef's jacket with your name embroidered into it
A campusLA t-shirt
And as much fun as we can jam into the culinary summer programs!
Pick-up for day students is 6pm at the kitchen. Pick-up and drop-off are at 10am at the kitchen. Early drop-off is possible but will need to be considered on a case-by-case basis, please contact us to discuss.
1-week versus 2-week-long sessions: Our one-week-long session happens during the first week or our two-week-long session and provides access to a shorter more affordable version of our amazing summer culinary program. We do believe the two-week-session gives access to more than twice the learning just because the students are in the groove and understand the systems so things continue moving quickly; however the one-week session follows along the same curriculum and is great!
---
About campusLA and Enrollment Details:
Enrollment process:
Admission is rolling and subject to closure upon the program reaching maximum enrollment. We do not require letters of recommendation, transcripts, essays or pictures of previous culinary masterpieces. Applications will be accepted until a week before the program begins, or when the program fills, whichever occurs first. It is recommended that students enroll as early as possible to reserve their space at our premier culinary summer program. Check our FAQs or call us for further answers!
Enroll by clicking here: ENROLL NOW
Payment Plans and Cost Structures:
We know that this is expensive and not all families can make this type of payment very easily, even in one or two payments. Our online system for payment requires a $1,000 deposit upon registration… and then you can make as many payments as you want, for any amount, as long as the program is fully paid before your session starts. By registering, you will create a username, and you can log in and make payments of any size with no additional fee. We have some families pay all at once; others do 100 small transactions. It's fine; it's all good! Just get registered before it sells out, then pay it down before the program starts!
campusLA 2020 Culinary Summer Program:
---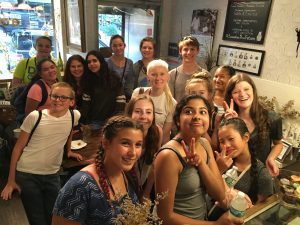 On the ice cream tour…. our culinary summer programs are fun!
---
Optional Airport Service
We offer pick-up/drop-off service, here are some details::
SNA (Orange County aka John Wayne) which is only 14 miles we recommend this one!
ONT (Ontario) which is 49 miles away second best choice
LAX (Los Angeles International) 53 miles away – longest ride last choice
Arrival Day/1st day of session: Preferred arrival by 1PM
Departure Day/last day of session: Preferred departure before noon
Cost: $95/one-way and $175/round-trip
Please contact us if you have any questions! We have been doing this a long time and are very very good at this!
Pickup/Drop off process:
Pickup: We will call you the night before your flight just to double confirm all of your info, and we will email you the name and a picture of the person doing the pickup so your student will know who to look for. We will be waiting just past security in a campusLA t-shirt with a big sign with the student's name and campusLA logo. Of course we will call you as soon as we have effected pick-up! We will then help get any baggage, load in to a professionally-driven transport, and escort the students personally directly to the residence hall.
Drop off: We will leave the residence hall in plenty of time to get students to the airport. We will help them to get checked in, drop baggage (don't forget to pre-pay any baggage fees!) and then escort student to security. We typically leave one staffer at the airport until all flights have gone wheels-up, so that in the case a flight is cancelled, we can be right there to help re-book, or even return to the dorm as necessary.
Students can choose either one- or both-ways pickup/dropoff service. Please email us your student itinerary and receipt from the airline as soon as you have it.
Please note: We cannot accept students a day early or keep students a day late as we do not have access to the residence hall and rooms at that time. Please let us know as soon as you can your flight plans!
Call us if you have any questions about the flight pickup and drop off program. International students may find it easier to email us.
Registration Deadline:
*Any registration received after June 15th must be paid in full and there are no refunds issued to any registration after June 15th for any reason. Please call us if you need additional information or an exception to the full-pay-at-one-time requirement.*
Refund Policy
On or before June 15th all tuition, including additional optional charges, for culinary summer programs will be refunded excluding $1000 non-refundable deposit.
After June 15th, no paid tuition, including additional charges, for our culinary summer programs will be refunded for any student who withdraws or is dismissed for any reason.