At campusLA, our students love the depth of recipes and the skills of the staff.  Our program takes place in a professional teaching kitchen with high-end equipment.  This culinary high school program is for students who want a professional-level experience.
The vision for the program is:  a short classroom session to start the day, to build skills (like knife usage), specific cooking techniques, and core concepts to introduce the day's recipes. Then it is hours and hours of cooking in a professional kitchen under the watchful eye of talented professional chefs.  This is a great opportunity for our premier culinary high school students.
CLASSROOM ACADEMICS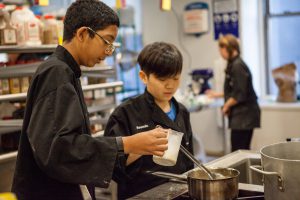 Students get formal classroom time in addition to their kitchen time each day.  This enables us to learn and get formal conceptual training:
Knife Skills and Safety
Kitchen Safety rules
Nutrition and Health
Label Reading/Deciphering
Ingredients / Substitution
Calories / Energy
Kosher, Vegetarian, and Vegan Alternatives
And more….
In addition to the concepts listed above, our chefs go over the day's recipes with the students ahead of being in the kitchen, and they discuss core critical concepts, techniques and other important aspects of the day's recipes with the students before they hit the kitchen.
RECIPES FROM SCRATCH
Last year we made over 100 recipes each session in our culinary high school program, from countries all over the world, Cuba, Ecuador, France, Germany, Indonesia, Thailand, India, China, Japan, USA, and on and on…. all of these were made by hand, by our students, in the kitchen together from scratch!
basil pesto
biryani masala
breadsticks
caprese salad
carrot raita
char koay teow
chicha morada
chicken milanese
chicken tangine
cobb salad
coconut puto
corn chowder with crabmeat
cornbread
crepes
crème brulee
floating islands (oeufs a la neige)
galaktoboureko
gazpacho
chocolate glaze for éclairs and profiteroles
green papaya salad
gulan jamun
homemade croutons
indonesian style satay
jambalaya
kebabs
madras chicken curry,
chennai style chicken curry
mango chutney
mango lassi
massaman chicken curry
mint coriander chitney
mussels meuniere
pad thai
pan seared chicken with veloute sauce
pappadums
paratha
pastry cream
pate a choux
pita
puff pastry
purple yam puto
quiche lorraine
quinoa salad
rice and beans
red pepper hummus
ropa vieja (cuban)
salade nicoise
shrimp fa diavolo
spaghetti and meatballs
strawberry shortcakes
stuffed arepas
stuffed zucchuni blossoms
taqbbouleh
tamarind chutney
tandoori chicken
tiramisu
totsones with salsa verde
vegetable biryani
watermelon ice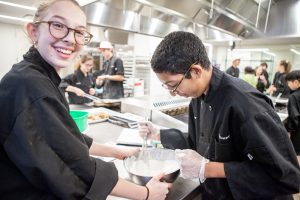 Demonstrations and Special Guests:  At our culinary high school program we expect food bloggers, food photographers, and other experts talk to us about their craft and how to achieve the best possible results in all aspects (including posting awesome pictures on social media!)  Check back or even better call or email us for the latest info on who is visiting, we are adding events all the time.  Visitors from the gourmet food trucks and other culinary entrepreneurs who utilize the spaces at night will round out the demos and presentations.  Call us for more details!